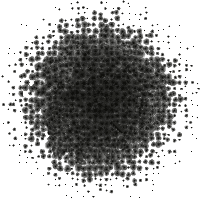 | | |
| --- | --- |
| contact, for you to decode: | interface AT elektronengehirn DOT de |
| | concerts and press: booking AT tmkm DOT dk |
news:
concert 'piece for modular synthesizer and real estate data'
on September the 18. 2019 Elektronengehirn premiere the piece for modular synthesizer and real estate data at Experimentik in Berlin.The piece is part of a greater concept called The Big Crash, evolving around harvested real estate data. The thematic departure point is the instability of the real estate market as a consequence of extreme gentrification, something that is actively taking place in all bigger cities around the globe. There is a pending "big bubble crash" as a consequence of this and The Big Crash deals with the growing instability this creates and the effects of it. The art pieces created for this concept are all based on a software that mines the Internet for real estate data, here websites that work as intermediaries of rented properties, rooms and flats. The software harvests the data of the websites, e. g. prizes and square-meters, but also the visuals of the advertisements. These are analyzed with a machine learning algorithm, performing image segmentation and separates objects found in these images into picture fragments that are consequently used in the art pieces.

The Elektronengehirn concert is based on the database of the harvested information, where the data derived from it controls a custom software synthesizer and the analogue modular synthesizer. The Big Crash as a whole is in this way an expansive art piece which besides sound and music will branch out in other forms, such as painting, VR, net art, sculpture and installation art. It embraces Malte Steiner's concept of the contemporary interdisciplinary Gesamtkunstwerk.

Read more at https://www.block4.com/art/theBigCrash.php
new Elektronengehirn album Ø
The new album Ø is out. It contains 12 pieces composed between 2002 and 2017. The individual tracks come with additional information (viewable on Bandcamp) about background and how they are done.
The last proper album release is more than 16 years old now and Elektronengehirn was more a live project in that time, experimenting with new approaches to perform complex compositions between prepared material and live expression, using uncommon controllers like data glove or windcontroller.



Elektronengehirn is registered trademark of Malte Steiner